PASTOR MICHAEL MUPFAWA SENIOR PASTOR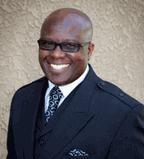 Michael Mupfawa's ministry experience began in 1992 in Zimbabwe as a young pastor, teacher and school chaplain. In America he has served as Associate Pastor and Business Administrator at Valley Fellowship Church, Pastor for Stewardship and Hospitality at New Life Church, Senior Pastor at Del Rosa Church and Senior Pastor at All Nations Church, and Executive Pastor at the Kansas Ave. SDA Church.
He is married to Lady Dee, his high school sweetheart. They have been blessed with three wonderful children, Steffany, Sofia and Seth.
He graduated from Solusi University with a Bachelor of Arts in Theology and from Andrews University Theological Seminary with a Master of Divinity degree.
Pastor Mike preaches all over the United States, Canada, the United Kingdom, the Philippines, Jamaica, Nigeria, South Africa, and Zimbabwe his native home.
An autographed copy of Dr. Ben Carson's book "Think Big," inspired Pastor Mike to motivate students, young couples, fellow ministers, the business community, and churches to aspire to their fullest potential.
Michael Mupfawa's books vary in subject matter and style: "ASPIRE" is a Series of Biblical Motivational Messages. "Faith that Glows in the Dark" is subtitled Suturing the Suffering Soul through Scripture. "Razor Wire" is subtitled A World without Borders, and "Still We Sing" is A Trilingual Compilation of Favorite Interdenominational Hymns Sung by Zimbabweans in the Diaspora."
Michael Mupfawa strives to be a loving and lovable practitioner rather than just a preacher or hearer of God's Word.